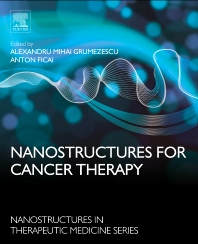 Editors:
Alexandru Grumezescu
Anton Ficai
eBook ISBN: 9780323461504
Hardcover ISBN: 9780323461443
Published Date: 14th April 2017
Nanostructures for Cancer Therapy discusses the available preclinical and clinical nanoparticle technology platforms and their impact on cancer therapy, including current trends and developments in the use of nanostructured materials in chemotherapy and chemotherapeutics.
In particular, coverage is given to the applications of gold nanoparticles and quantum dots in cancer therapies. In addition to the multifunctional nanomaterials involved in the treatment of cancer, other topics covered include nanocomposites that can target tumoral cells and the release of antitumoral therapeutic agents.
The book is an up-to-date overview that covers the inorganic and organic nanostructures involved in the diagnostics and treatment of cancer.
Chapter 24 – Cancer Therapies Based on Enzymatic Amino Acid Depletion
Carla Teixeira*, Henrique Fernandes*, P. A. Fernandes, M. J. Ramos and Nuno M. F. S. A. Cerqueira (* contributed equally to this work)
Buy on Elsevier | Buy on Amazon | Available on iTunes | Preview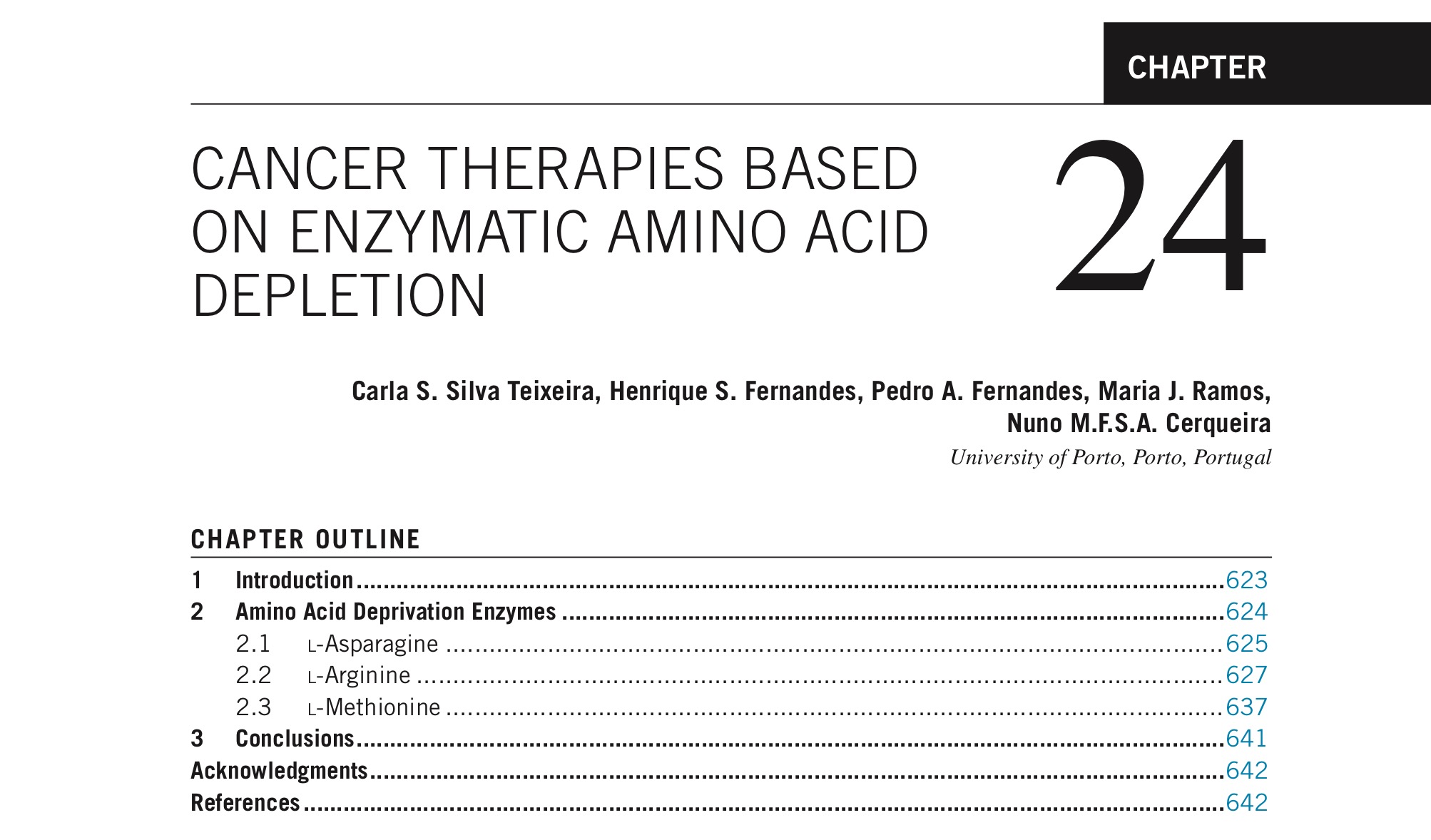 Abstract
A growing understanding of tumor biology has allowed the identification of various cellular characteristics that are more frequently associated with cancer cells than with normal cells. These findings have prompted the development of new therapeutics specifically designed to exploit these differences. In this context, the amino acid depriving enzymes have shown very promising results and proven to be active and very specific against various types of cancers. These therapies involve the depletion of specific amino acids in the bloodstream that cannot be synthesized by tumor cells. This happens because these cells often have a defecting enzymatic armamentarium and therefore rely on external supply for those amino acids. Decreasing the concentration of certain amino acids in blood has thus been shown to impair the development or even destroy tumor cells. Normal cells remain unaltered since they are less demanding and/or can synthesize these compounds in sufficient amounts by other mechanisms.
In this chapter, the structure, function, catalytic mechanism and therapeutic application of some amino acid depriving enzymes will be reviewed. Particular attention will be given to enzymes that have potential or are currently used in the treatment of several types of cancer, namely: (1) l-asparaginase used for the treatment of acute lymphoblastic leukemia; (2) l-arginase and l-arginine deiminase that are used in the therapy of hepatocellular carcinomas and melanomas, two diseases that account annually with approximately 1 million of new cases and for which there is currently no efficacious treatment; and (3) l-Methioninase with potential to be used in the treatment of breast, colon, lung, and renal cancers.
Keywords
amino acid deprivation

;

heterologous enzymes

;

tumor

;

cancer

;

catalytic mechanism

;

asparaginase

;

methioninase

;

arginase

;

arginine deaminase